Ep 8 of SMB Growth Opportunities: Organised by IndiaBiz & Echai
After the successful showcase of the Machine-learning based IoT hardware startup, IndiaBiz brings its 8th edition of the SMB series on Friday, 30th July, 2021 at 4:00 pm. Register HERE
This time we are showcasing business from Edtech Industry.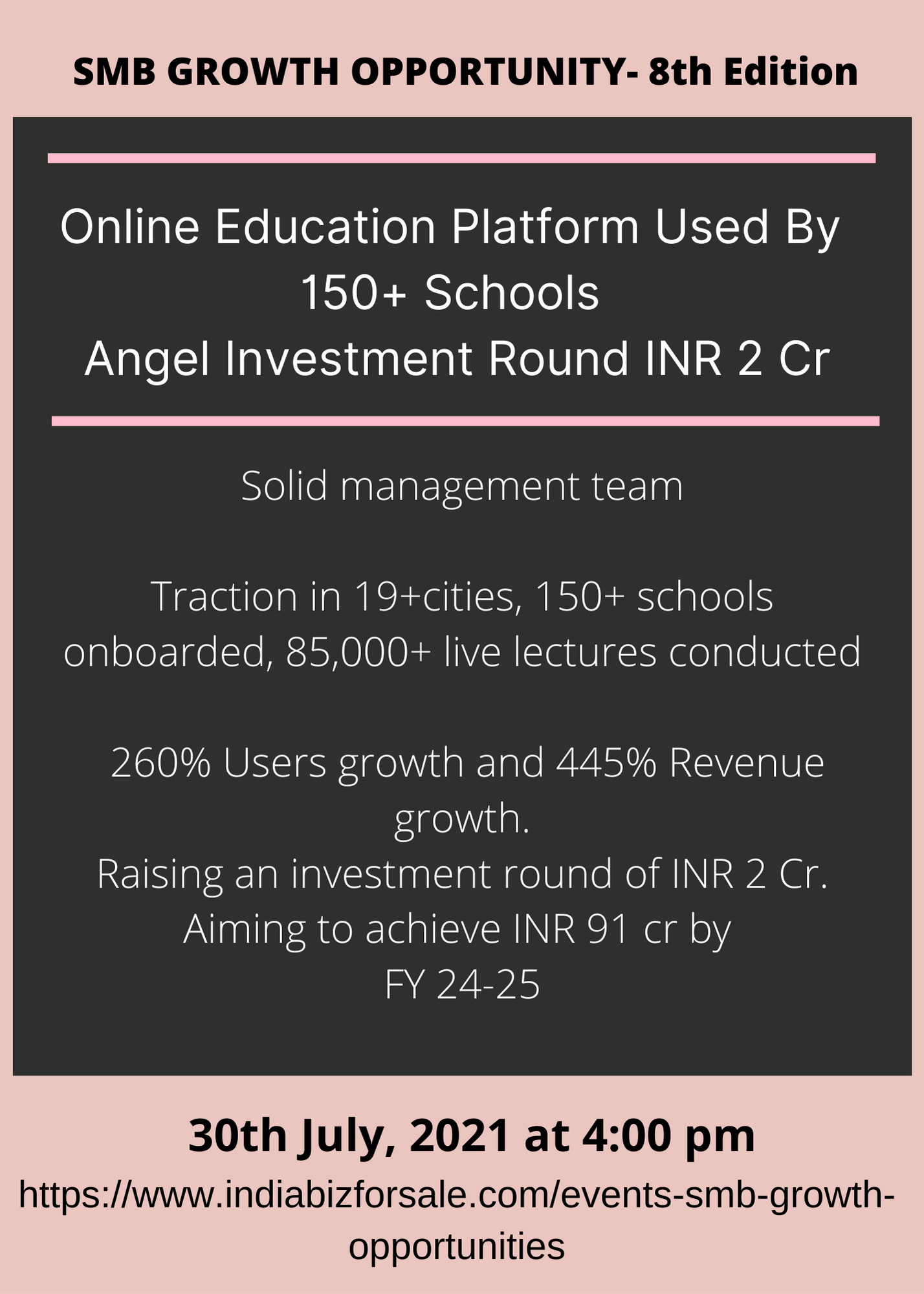 For Buyers and Investors to Attend
Pre-screened and verified business opportunities
Business presentation on the day of showcase
Focused conversation with the business promoters
1-2-1 interaction directly with the promoters post showcase
A new opportunity every week, with no extra cost for Indiabiz Premium members
To attend, register here
For Business Owners to Showcase
Tell your business story which is otherwise hard to share
Showcase your business to Premium buyers, investors and business leaders
1-2-1 interaction directly with investors interested in your opportunity post showcase
Boost your chances of getting acquired, raising funds or growing through strategic partnerships
Agenda : 30th July 2021, 4:00pm to 5:00 pm
4:00 - 4:05pm - Introduction of the host and the business opportunity
4:05 - 4:30pm - Presentation / pitch by the founder
4:30 - 5:00pm - Q&A with founder & networking
To know more information about the SMB Growth Opportunities series, write to us at [email protected]
FAQs
What is SMB Growth Series?
eChai Network and Indiabiz jointly organise SMB Growth Opportunities - an online series to facilitate curated business transactions. SMB Growth Opportunities is an off-shoot of the successful Business Buyer's Club events. An event which has seen successes in various cities like Ahmedabad, Bengaluru, Mumbai & Surat. In the past companies like Locanix, Innersense, Cure It, Hostec have participated in the program and have received investment and interests in their growth. Investor community from GVFL, Aha ventures, Venture Catalyst, and many first time and serial investors have enjoyed this program in the past.
I want to showcase my company opportunity, how to go about it?
Business Owners get an exclusive forum to pitch directly to qualified buyers and investors. Every business opportunity is carefully selected via our analyst team, the selection process involve business diligence to verify the details and check for the attractiveness of the business opportunity. Step 1: Process payment of INR 10,000 (incl of 18% GST), Step 2: Provide business opportunity details to our analyst team, Step 3: Our analyst team will select or reject the opportunity, if the opportunity is rejected- you will have a choice to get the full refund or use that for Premium Plus Membership plan on indiabizforsale.com to reach out to top investors directly.
I want to attend this event/series as an investor, how do I register? Buyers and Investors get access to pre-screened and verified business opportunities. The event is open to eChai Paid members & IndiaBiz Premium/Premium Plus Investors/advisors during their subscription period. You can activate/upgrade the membership plan from here or buy membership pass per event basis.
Past Event
Testimonial
"The SMB event was a systematic and organised event. I would have liked it to be more than an hour slot. Also, there were many queries for my opportunity and because of the paucity of time not all questions were possible to cover in detail. Overall, it was a good experience and SMB event should be organised every month.

(Founder, Robotics company)
(SMB Growth Series episode 7)
"Thanks for the great event today - I enjoyed this very much! Start-up founders live an underdog's life until they prove it - so today was refreshing with all the limelight. Great forum to showcase business idea to a decent-sized audience and create outreach for investment - from schedule to finish the whole team did a terrific job! The session was moderated brilliantly - all questions were pertinent and useful". Founder, NeoBank startup,
(SMB Growth Series episode 2)
"The SMB initiative by Indiabiz came at the right time for my business. Not only, I got interested folks to talk to but also got a lot of feedback on my business. As this was my first time doing a Business Exit, the feedback and support were very helpful". Founder, IT Product company,
(SMB Growth Series episode 1)